Warmth and careful hospitality for a unique stay in Rome

It was restaured with refined materials and furnished with ancient pieces, it is very well connected to the downtown by the urban up train north-line which allows to reach the RAI Center in 5 minutes and the downtown in 15 minutes. The rooms, realized in style with valuable cloths, are furnished with TV, minibar, air conditioning, hair dresser, bed-linen of quality.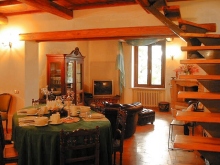 The always refined, rich and genuine brakfasts are served with a cared and refined service. Discretion, refinement and disponibility are distinctive signs of the " B&B SAXA RUBRA ROMA ": an ideal place to study, to work, to visit Rome and to feel at home in a welcoming and refined environment.

Atmosphere that one breathes in the " B&B SAXA RUBRA ROMA " is rich in suggestions, charming details, memories which contribute to give to the house an enchanting touch of poetry. Everything is orchestrated to lead the peregrine to live his stay in the " Eternal City ", according the ancient latin greek custom of " sacred hospitality ".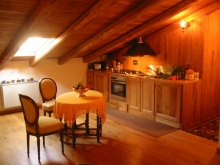 Restauration work has resulted long and tiring even because every detail has tried to be cared often finding materials to the search tha can be found with difficulty. Everything has been thought and chosen to the goal to create a not only welcoming but above all biologically healthy environment for he who lives it. So, for flooring it has been chosen in the respect of psycho-physic balance the natural " cotto ", made purposely to prepare according the ancient art, from one of the most famous klinks at Orvieto. But the real protagonist, the one that takes the lion share is the chestnut-tree wood; a refined planning and a clever working of this material underline the architectural solutions of the house.